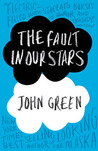 The Fault in Our Stars by John Green
My rating: 5 of 5 stars
I decided to read this book in spite of the fact that I knew it would make me cry. It did! I finished it in two hours. I have my own.experience with cancer and I understood all the emotions and feelings going through it as the outside person looking in. My husband who was also one of my closest friends before we were in a relationship passed in 2011 from brain cancer. Thank you for writing this and I loved it. It was very well written and I could feel all the emotions from the characters. Great read!!